PULASKI COUNTY, Ark. -- The Pulaski County Special School District Board of Education awarded the second quarter Inspiration in Education award for the 2021-2022 school year at its board meeting on February 8, 2022.
After being delayed for two months, this year's second Inspiration in Education award was presented to Tracy Bailey, an instructional coach at Joe T. Robinson Elementary. Bailey was selected out of nearly two dozen nominations submitted for the second quarter award. As her peers state, Mrs. Bailey truly exemplifies what it means to go "above and beyond."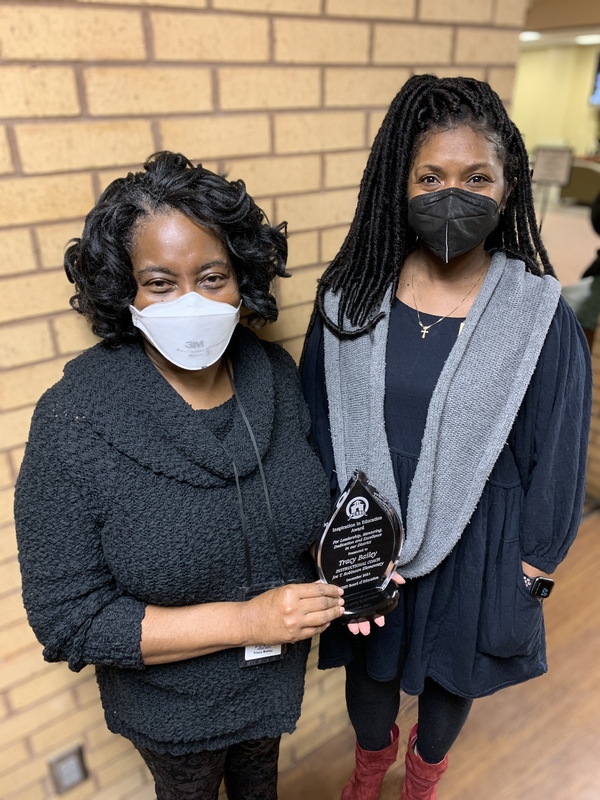 "Mrs. Bailey always has a positive attitude and steps in whenever and however needed for the students, staff and parents," said fellow teacher Robert Browning. "She always has encouraging words to say and motivates me to do my best no matter the task as well as reminding me that it's about the betterment of our students."
The Board of Education created the Inspiration in Education award to honor certified and support staff members who are inspirational to their students or colleagues in their roles at PCSSD. Additionally, the award recognizes employees who exhibit traits including leadership, mentoring, dedication, excellence and effectiveness in their places of work.
In her role as instructional coach, Bailey works with teachers on ways to enhance and improve math and literacy instruction for all students. Additionally, she has stepped in as a substitute teacher a few times this school year due to the impact COVID quarantine has on teacher availability.
"She never complains or gives an excuse to do extra work around the school," Browning added. "She works hard from the time she arrives until the time she leaves, which is sometimes really late! She is truly a unique and positive role model for everyone at RES!"
The Inspiration in Education award is presented to the winner quarterly in October, December, February and May. Anyone may nominate a PCSSD employee for the award. The applications are reviewed by the Superintendent's Cabinet for ranking, and the highest scorer is named the quarterly winner and receives the award from the PCSSD Board of Education.