LITTLE ROCK, Ark. -- During the Board of Education meeting on Tuesday, November 12, 2019, the Pulaski County Special School District School Board presented the 1st Quarter "Inspiration in Education" award to Yolanda Richards, secretary to the Assistant Superintendent of Equity and Pupil Services. Ms. Richards was nominated by her supervisor, Dr. Janice Warren, and was selected amount more than 25 candidates.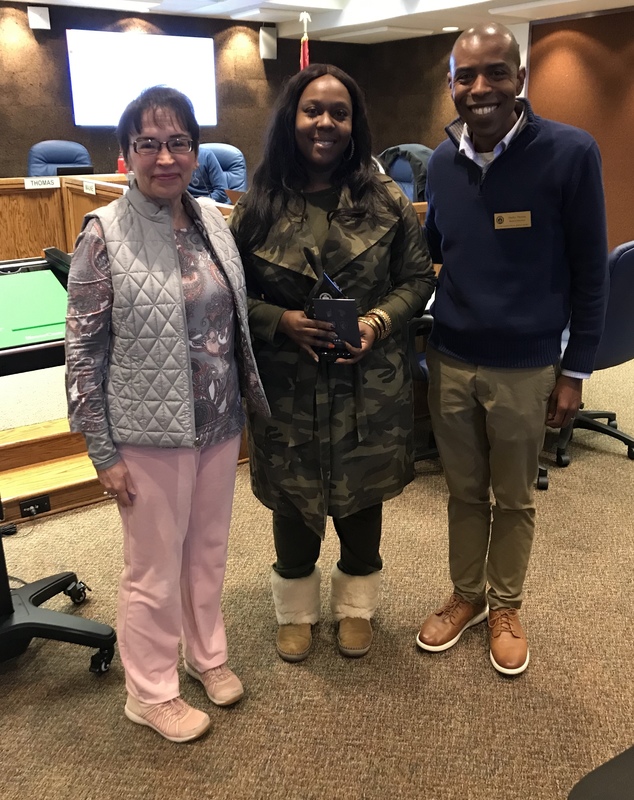 The Board of Education created the Inspiration in Education Award to honor certified and support staff members who are inspirational to their students or colleagues in their roles at PCSSD. Additionally, the award recognizes employees who exhibit traits including leadership, mentoring, dedication, excellence and effectiveness in their places of work. Along with the honor of being selected, Richards received a plaque and a check for $250.
Richards was nominated by Dr. Warren, but the sentiments of Richards' achievements were shared by all in the department of equity and pupil services.
"Yolanda always performs her various task with a smile. She doesn't hesitate to assist parents, students or staff," says Dr. Warren. "She is very knowledgeable of the districts desegregation plan as well as the student registration process. She's a walking encyclopedia/chromebook!"
Several members of the superintendent's cabinet added comments about how Richards is a wealth of knowledge.
"We are so fortunate to have you," added superintendent Dr. Charles McNulty. "You are a remarkable professional. You are talent. You are brilliant."
Dr. Linda Remele, president of the PCSSD school board and vice president Shelby Thomas presented Richards with her plaque, check and a thank you card for her dedication to PCSSD.