PULASKI COUNTY, Ark. -- The Pulaski County Special School District Board of Education awarded the fourth quarter Inspiration in Education award for the 2022-2023 school year at its May board meeting on Tuesday, May 10, 2023.
The fourth, and final, installment of this school year's Inspiration in Education award was presented to Kristin Herring, lead career academy coach for the District. Herring received three separate nominations out of 48 total nominations for this quarter. Seven PCSSD employees received multiple nominations - it was quite a competitive pool of candidates this quarter!
Herring has worked for PCSSD for 24 years, the first 22 of those years were all spent in schools across the District. She worked at Sylvan Hills Junior High, Sylvan Hills Middle, Robinson High, Maumelle Middle and Maumelle High schools. In her current position, she serves as the career academy coach for the entire District as part of the Academies of Central Arkansas. In the two years that she's held this position, Herring has established vital partnerships for all four PCSSD high schools that will expand each school's academy structure.
"I have witnessed all the tremendous work she has done since accepting her [new] position," said Yvone West, principal at Sylvan Hills Junior High. "She has been the drum major in the development of the academies across the District. From the countless hours she has spent meeting and talking to community leaders to the numerous school and classroom visits, she has been persistent and relentless in establishing a solid foundation to ensure that this major undertaking goes off without a hitch."
Laura Turner, a PCSSD colleague, has known Herring for over 20 years as a fellow teacher and as a PCSSD parent. Turner notes how well Herring encourages students, dating back to her years in the classroom.
"She was the biggest cheerleader of all her students. And now she provides the same type of commitment to success for ALL PCSSD students," said Turner. "Mrs. Herring is the model for what all of us should look to achieve as an educator. The list of the accomplishments of her former students, the thankful teachers that she has supported, the administrators that were fortunate to have had her on their staff, the parents who she helped guide through the process of post graduation, and the community leaders she has recruited to be a part of PCSSD academies is a very long list."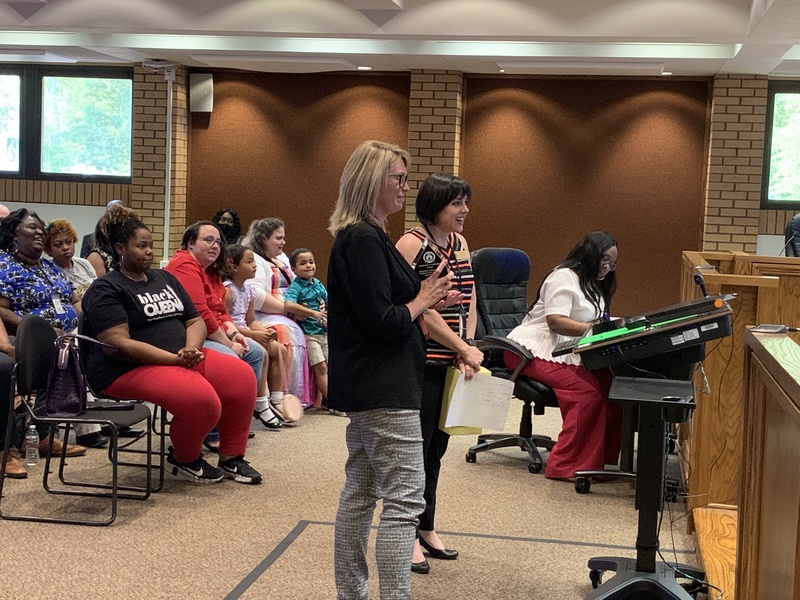 Many have noticed Herring's hard work, especially the past two years.
"Kristin offers a friendly face, a hand of support, and provides a strong platform for our teachers and students as they create and build the academy model together," said Michelle Camp, assistant principal at Sylvan Hills Junior High. "Her dedication to students, other teachers, and parents is not new. She has years of pouring into others."
The Board of Education created the Inspiration in Education award to honor certified and support staff members who are inspirational to their students or colleagues in their roles at PCSSD. Additionally, the award recognizes employees who exhibit traits including leadership, mentoring, dedication, excellence and effectiveness in their places of work.
The Inspiration in Education award is presented to the winner quarterly in October, December, March and May. Anyone may nominate a PCSSD employee for the award. The applications are reviewed by the Superintendent's Cabinet for ranking, and the highest scorer is named the quarterly winner and receives the award from the PCSSD Board of Education.