In an effort to prevent the spread of the COVID-19 virus within our staff and student body we are asking all parents/guardians, of students who will be in attendance on-site, and all employees to notify our designated Point of Contact immediately when the following occurs:
Someone in the household has tested positive for COVID-19.

Someone in the household has been identified as a Close Contact to a positive case of COVID-19 and is requiring quarantine and/or recommended to be tested for COVID-19.

Student attending on -site and employees who are being tested for COVID-19. If symptomatic, student/staff should remain in quarantine pending results of their COVID-19 test.
Please call the PCSSD COVID Hotline at 501-539-3895, or email information to covidcontact@pcssd.org.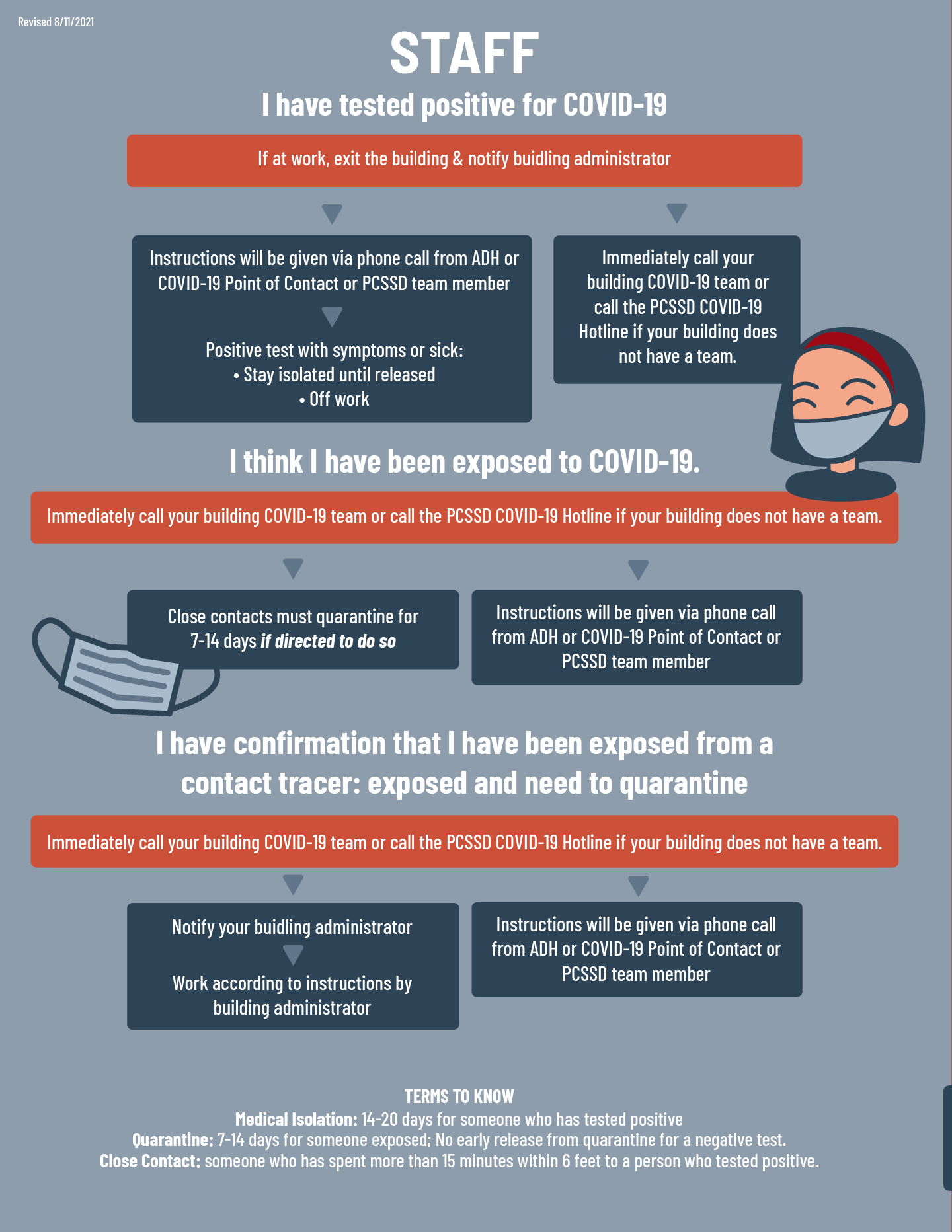 Reporting Pathway: Student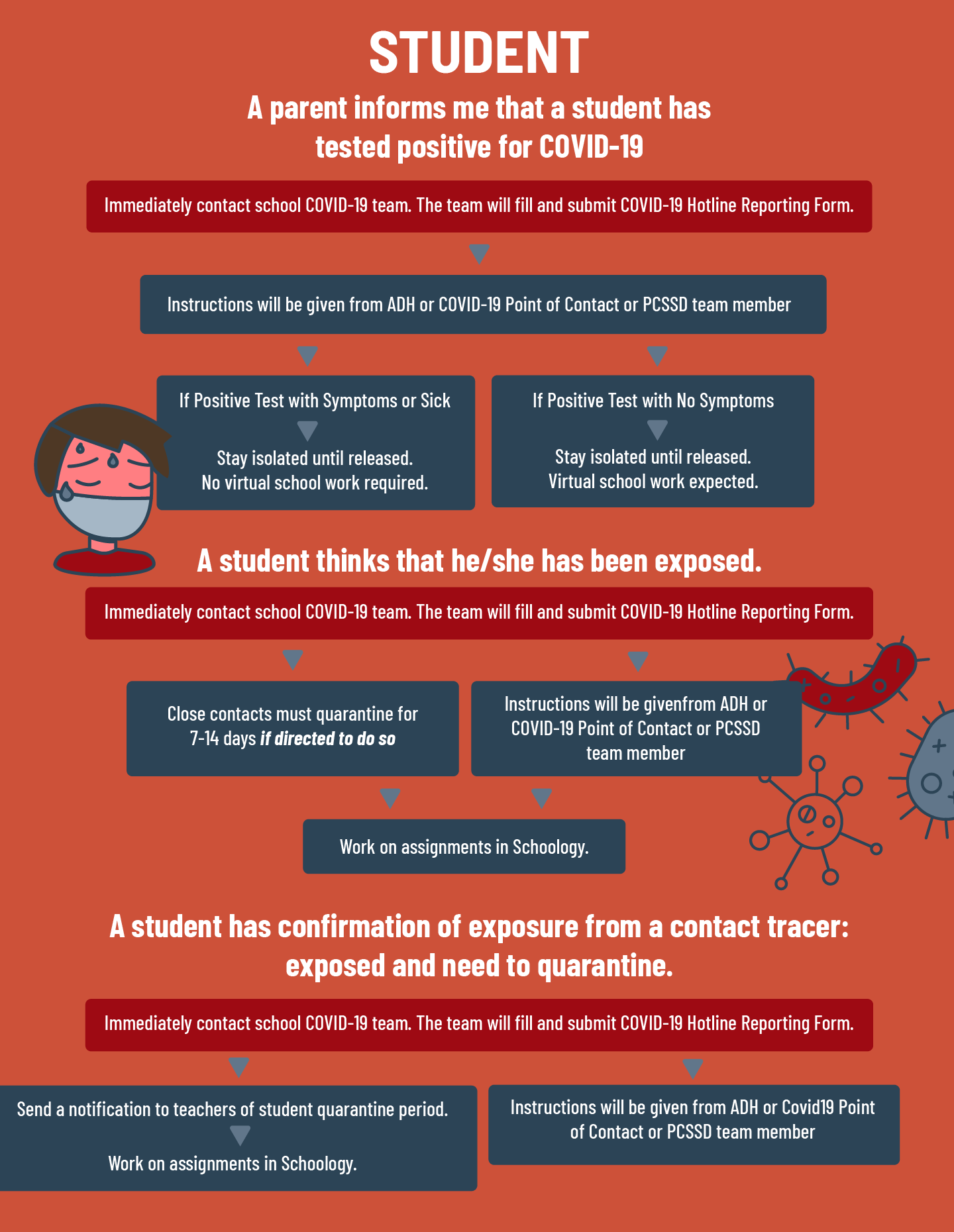 The following information is from the Arkansas Department of Health. (PDF)
What is quarantine?
Quarantine is an important way to stop the spread of COVID-19. It means staying home and away from others after you have been exposed to the virus that causes COVID-19. If you are a close contact to a person with COVID-19, you need to quarantine for a period from the time of the exposure. Close contact, generally, means you were within 6 feet of the person for at least 15 minutes total while they were infectious. COVID-19 patients are considered infectious two days before their symptoms started, or two days before their positive test if they do not develop symptoms. All close contacts should get tested for COVID-19 at least five (5) days after the last exposure to the positive person.
Length of quarantine
The incubation period of the virus that causes COVID-19 is up to 14 days. Therefore, the safest quarantine period would last 14 days from the most recent exposure to the positive patient. In accordance with new CDC guidelines, quarantine can end after 10 days without testing if no symptoms have occurred. Or, it can end after 7 days if no symptoms have occurred and a test returned a negative result. Note that the test sample must have been collected at least 5 days after exposure. If you are exposed again during quarantine, the period must start over again. If you develop symptoms or test positive for COVID-19 during the quarantine period, you must follow the instructions for isolating yourself.
Quarantine after vaccination (new from Arkansas Dept. of Health - Feb. 2021)
Vaccinated persons with an exposure to someone with suspected or confirmed COVID-19 are not required to quarantine if they meet all of the following criteria:
Are fully vaccinated (i.e., ≥2 weeks following receipt of the second dose in a 2-dose series, or ≥2 weeks following receipt of one dose of a single-dose vaccine)

Have remained asymptomatic since the current COVID-19 exposure
Persons who do not meet the above criteria should continue to follow current quarantine requirements after exposure to someone with suspected or confirmed COVID-19. These quarantine recommendations for vaccinated persons, including the criteria for timing since receipt of the last dose in the vaccination series, will be updated when more data become available and additional COVID-19 vaccines are authorized.
Close Contacts who develop SYMPTOMS while in quarantine:
ISOLATE at home and encourage testing for COVID-19
If tested for COVID-19 by PCR after symptom onset and negative, close contact can return upon completion of quarantine period (7, 10, or 14 days), provided no symptoms are present at time of return and close contact has not had fever for at least 48 hours.

If tested for COVID-19 by PCR after symptom onset and positive, notify School POC to report a positive case.

Isolation period will be 10 days from onset of symptoms.

If NOT test, close contact should isolate for 10 days from onset of symptoms
PCC Not Required to Quarantine, but Develops Symptoms Following Exposure
If a PCC who does not have to quarantine due to one of the following:
Fully vaccinated for COVID-19

Within the 90 day immunity period post COVID-19

In a K-12 setting where both the positive case and the PCC were properly wearing masks
develops symptoms within the 14 days following exposure they should isolate and be clinically evaluated for COVID-19. They may return to school/work when they have been fever-free for at least 48 hours and their symptoms have resolved along with at least one of the following:
A negative COVID-19 PCR test (a negative rapid antigen is not adequate due to the presence of symptoms)


or

They have been evaluated by a physician, it has been determined that it is an illness other than COVID-19, and they have documentation stating so


or

10 days have passed since symptom onset