As we wrap up Hispanic Heritage Month, which began September 15 and ends on October 15, Pulaski County Special School District showcases how two clubs partnered to celebrate and honor Hispanic Heritage Month.
The 2L (Two Languages) Club teamed up with the Library Club at Robinson High over the past 30 days to include all Hispanic cultures as they made crafts that represented Hispanic cultures and decorated the library.
"Before Hispanic Heritage Month we decorated the library and many students have told us how awesome it looks," said Melanie Medellin, 2L Club president and Robinson High junior. "We've also encouraged other clubs in the school to represent different types of Hispanics."
The Library Club welcomed students from the 2L Club to showcase Hispanic culture. The partnership was a perfect fit for these student groups. Robinson High students participated in a Hispanic heritage inspired craft creating boxes and picture frames as part of the "maker space" in the library learning center.
The 2L Club celebrates bilingualism, seeking to enrich student's lives through opportunities unique to knowing multiple languages.
"What I love the most about being part of the 2L club is how I get to share and hear the different experiences people have been through," said Medellin. "Speaking two languages can be really hard and trying to learn and understand a second language as a kid can be very difficult. It's really interesting to hear the different struggles and obstacles that people went through when learning a second language."
Each month, various school clubs can decorate the doors outside the Library Learning Center. For Hispanic Heritage Month, the 2L Club decorated the doors, the library created displays of Hispanic authors and their books and hosted the makerspace event.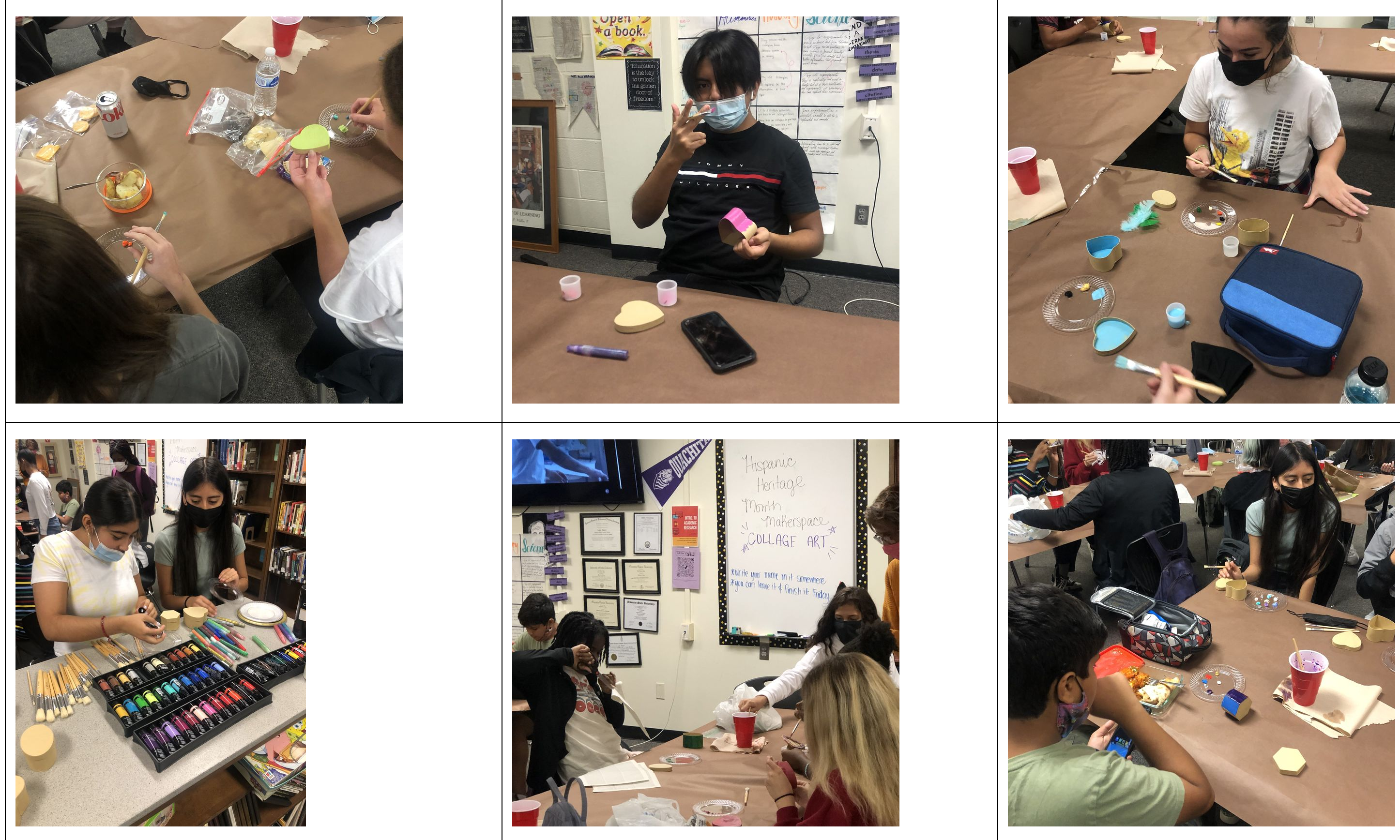 Joe T. Robinson High School and Lawson Elementary School celebrated Hispanic Heritage Month with help from the Pulaski County Special School District community.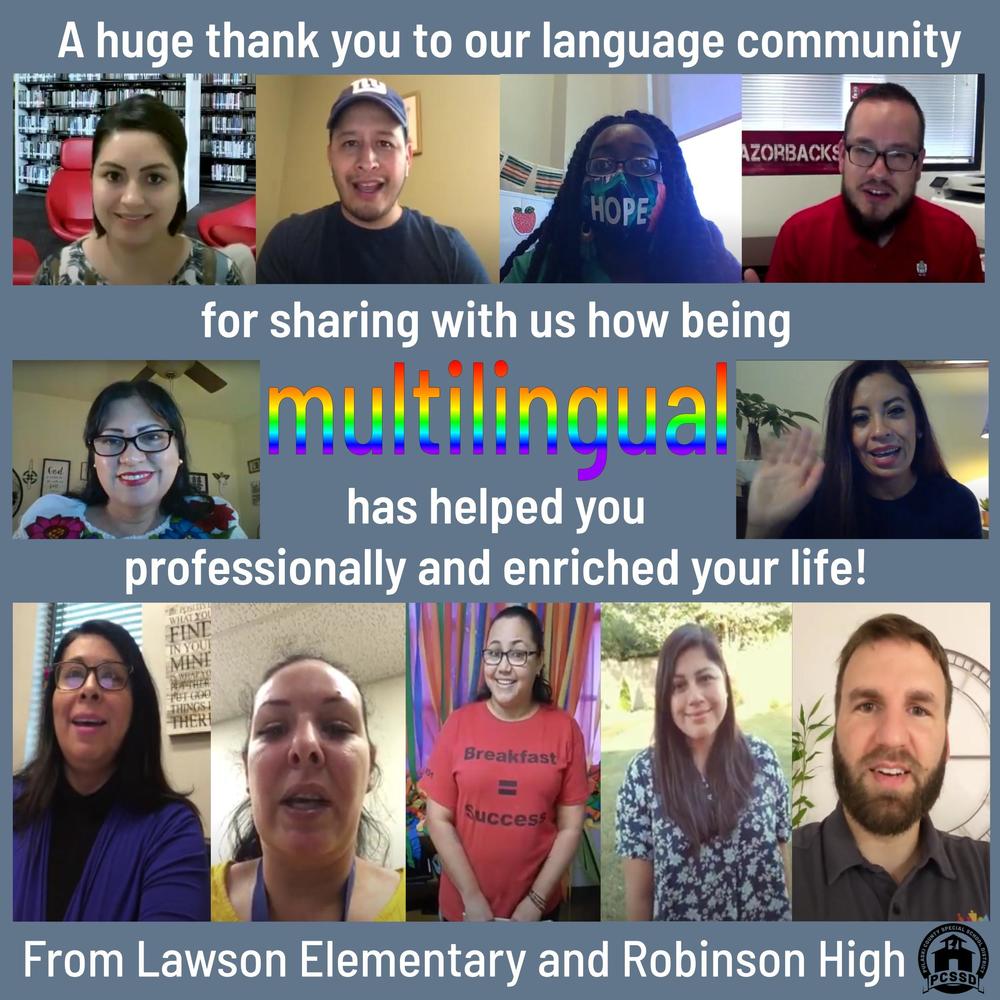 Hispanic Heritage Month honors the cultures and contributions of both Hispanic and Latino Americans as we celebrate heritage rooted in all Latin American countries.
Students participated in themed lessons and presentations and viewed videos that were recorded by bilingual community partners discussing their experiences.
Joe T. Robinson High students learned about Hispanic and Latino culture, Hispanic American civil rights leaders, and Hispanic contributions to American culture during their Senator Study Advisory period.
Lawson Elementary students learned about Hispanic culture from local community members and the lessons featured videos created specifically for elementary students by Nickelodeon and Disney. The lessons in both mainstream and specialty classes focused on Hispanic culture, music, art, and language.
School is happening online and so are clubs! The Two Languages Club at Robinson High School, which celebrates bilingualism, hosted two guest speakers recently. Both sessions were recorded and put online for students to access in their free time.
First Reyna Marquez, a student ambassador from UA-PTC and social activist in our community, talked about growing up in America. She said that she really felt that English and Spanish were both her first languages, and often wondered why she was classified as ESL. Due to life circumstances, she dropped out of high school. However, she eventually obtained her GED and is now pursuing a career in law to help people. She said "I thought my mom was just saying that knowing two languages would be good [to make me feel better], but now as an adult, it's absolutely true!" Chris Bell-Davis, a recruitment Coordinator from UA Pulaski Tech, also shared some unique programs that the college offers.
A few weeks later, Rafael Arciga Garcia was interviewed. He came to the US at age 14 as an undocumented immigrant. In early high school he didn't even consider attending college, but he ended up being the first in his family to attend and graduate university. He is now an Associate Director for Recruitment at the University of Arkansas! All along the way, he learned many important lessons, including just how valuable knowing two languages is, saying "That's going to come in handy when you get to the real world because there's so many more people you can talk with!"
BILINGUAL GUEST SPEAKER AT ROBINSON HIGH SCHOOL
Bilingual students at Joe T. Robinson Middle School and High School got a rare treat during a recent club meeting - a bilingual guest speaker!
Amanda Camarena, an accredited jewelry professional and recipient of a 2018 community award, spoke to the students about the benefits of being bilingual.
Amanda came to the United States as a teenager and was told it would be impossible to learn the language well enough to attend college. She did not give up on her dreams. Crediting a few teachers with giving her above and beyond support, she became proficient and attended university.
Amanda challenged the students to do the same, engaging in discussions about their goals and the challenges to obtain them. Debora Cosen (Assistant Principal at Robinson High and a co-sponsor of the club) offered students support whenever possible. In fact, several students expressed concerned about getting a good score on the ACT. After the meeting, Ms. Cosen and Candice Scales-Young, a school counselor, met with and offered ACT prep classes.
Mrs. Yaa Appiah-McNulty, principal at Robinson Middle, allowed any bilingual 8th grade student to come to the meeting. Students were allowed to stick around after the meeting and talk with the ESOL teacher from the high school.
Amanda Camarena has her children enrolled in PCSSD and is encouraging them to be bilingual as well.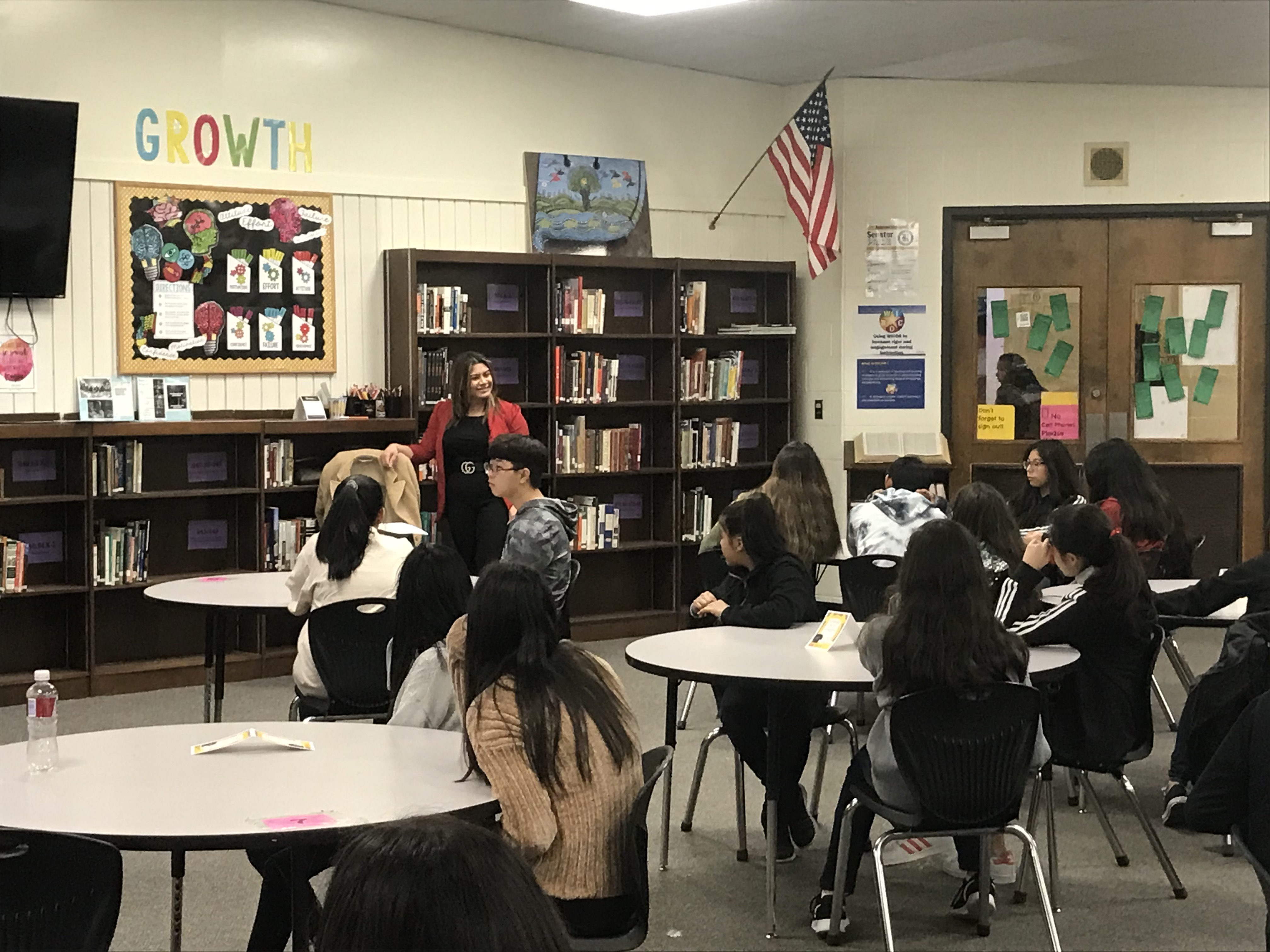 CHENAL ELEMENTARY HOSTS ESL FAMILY NIGHT
On January 13th, Chenal Elementary School hosted their annual ESL Family Night. During the event, the parents, teachers, and students were informed about the ESL Program and its services offered at the school. As an added benefit, interpreters were on the scene to answer any questions from parents and translate handouts given out at the program.
The principal of the school, Yolanda Harris, used this opportunity to discuss Chenal's expectations and achievements the school has obtained and maintained (A+ state rating) in the previous school years. The Parent Teacher Organization used the opportunity to discuss ways that parents can help the school and their children by volunteering and attending meetings. Finally, the ESL teacher, April Johnson, explained the services provided at the school for all ESL learners.
After the presentations, Chenal Elementary decided to do something different so that they could showcase the special abilities of the ESL students. The students performed two musical selections with special movements in traditional attire from their parents' home countries. The students looked spectacular while they sang songs that embraced togetherness and friendship.
After the program, the parents, students, and teachers mingled with one another, while feasting on hot, cheesy pizza, and strawberry and chocolate cupcakes made by one of the parents. The fruit punch wasn't bad either.
Everyone agreed that the ESL Family Night was a success and they couldn't wait until next year's event!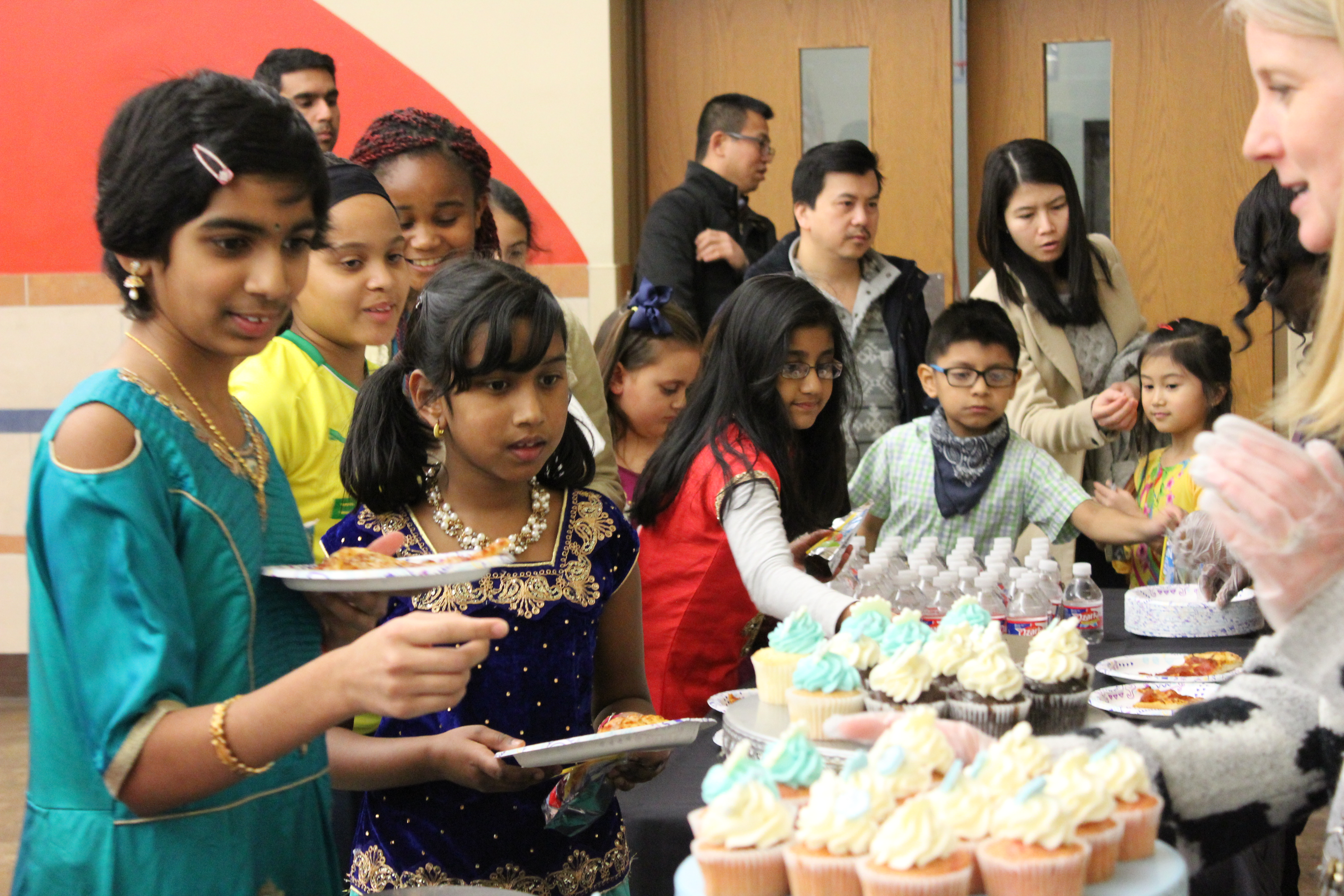 ROBINSON HIGH SCHOOL ESOL VISIT UA-LITTLE ROCK
Robinson High School ESOL (English for Speakers of Other Languages) students had the opportunity to take a field trip in November prior to fall break. Thirty-five students and two teachers (April Johnson and Clifford Abell) took the treck over to UA Little Rock.
Students received a tour of campus and a presentation from the TRiO program, which helps prepare low-income and first-generation students for college success, including financial aid.
Jo Ann Koehler, co-ordinator on the ESOL program in PCSSD, said that field trip was "a good idea to get these students resources they need."
A student commented after the field trip that they learned "what we need to focus on when we're in high school" while another student said they learned "that college is possible no matter what you're going through."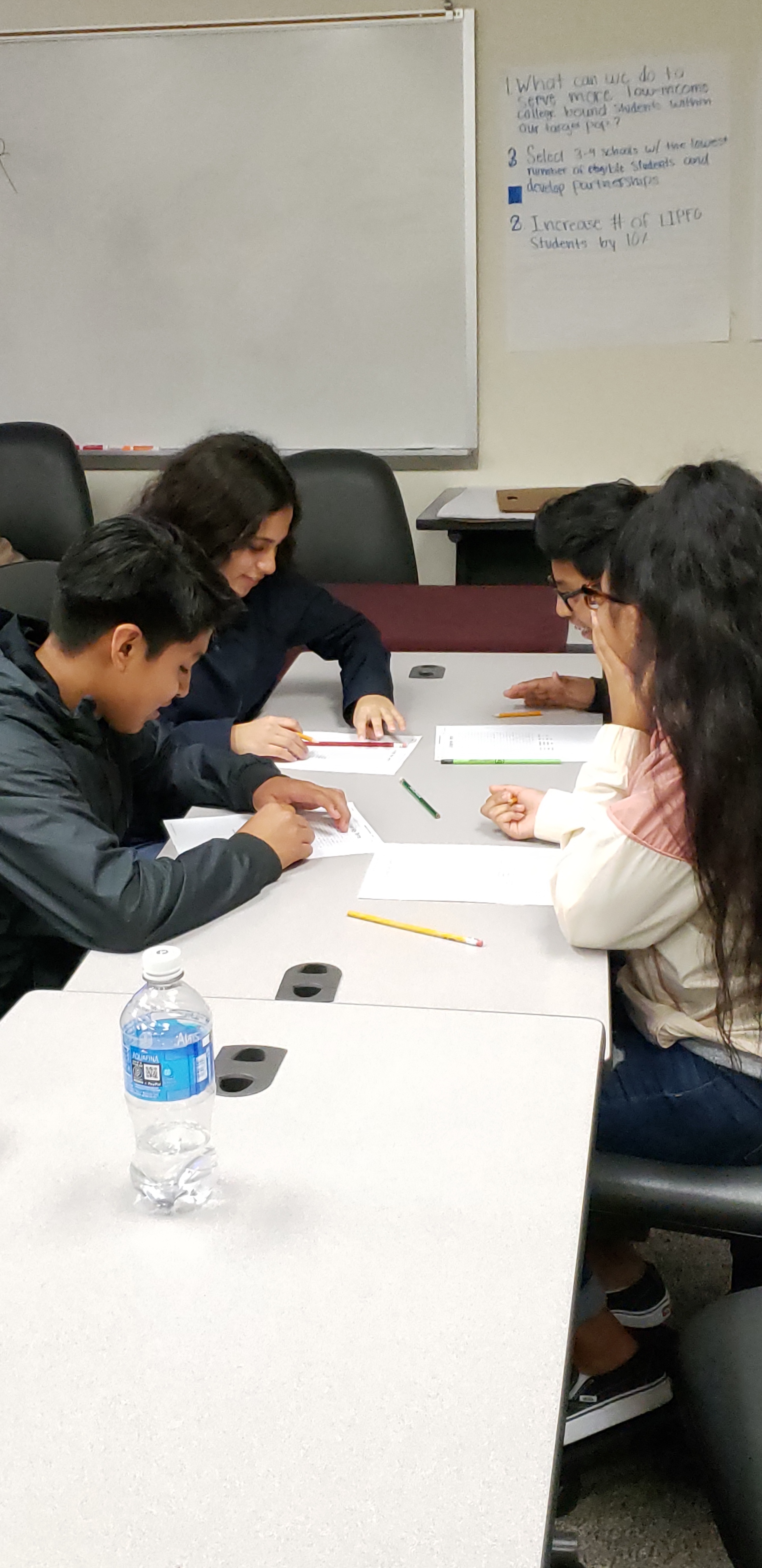 RHS ESOL Seniors visit Lawson as Cultural and Linguistic Ambassadors
On April 24th, four RHS Senators visited Lawson Elementary. However, this was no ordinary group - each of these graduating seniors speaks English as a second language! It all began with an application for the Robinson High school Cultural and Linguistic Ambassador Award. In it, the four students - Luis Gabriel, Alicia Juarez-Mateo, Shanni Castellano, and Evelin Santaclara - each indicated that they would be eager to go speak with and encourage elementary ESOL students. In preparation for the visit, the ESOL teacher (Mr. Abell) had photos taken of the seniors and put them up in the hallway at the elementary school. Mason Morgan, also an RHS senior, took the photos, and Mr. Abell used Adobe Spark to add the captions. Jamie Pasternak, who served as a reference for the 4 students, remarked "I recommend all 4 in the highest way possible! They are all amazing kiddos and would be excellent role models."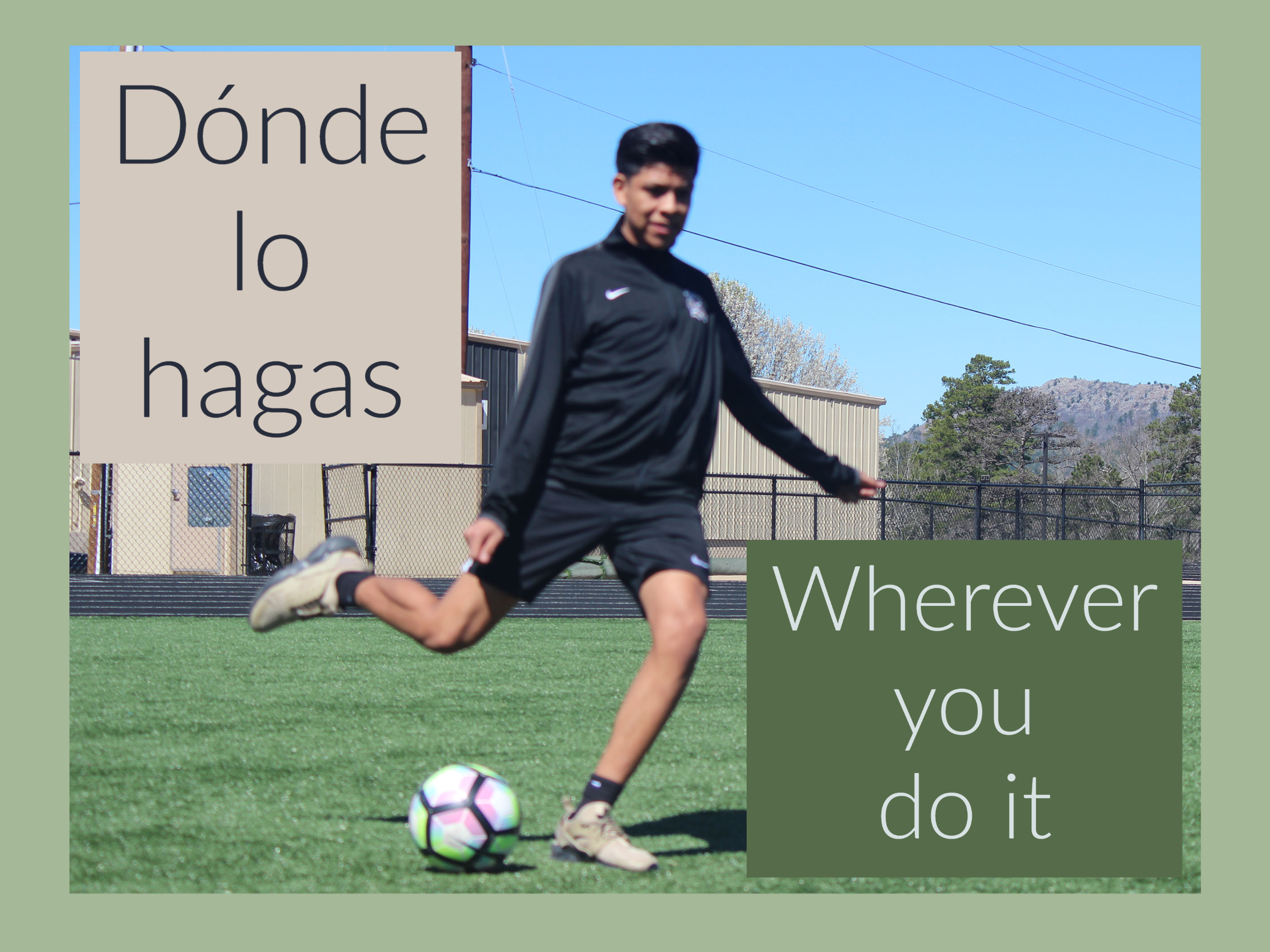 The morning of Wednesday, April 24th, the seniors visited the elementary students. The seniors talked with the elementary students about their experiences in school and life regarding speaking a second language. For grades K-2, the seniors also read a bilingual book to the elementary students. The seniors also talked about colleges and careers, both what they plan to do and what dreams the elementary students have. Most importantly, they emphasized that being bilingual is a huge blessing. Not only is it an advantage in a competitive job market, but it also allows you to enjoy more that life has to offer. Here are some specific comments they made:
Alicia:
Being a part of two different cultures can be exciting but it also can have it's challenges.
Shanni:
When I was younger I did struggle with learning two languages at the same time.
Luis:
When you have to learn a new language you won't be very good at a first...I could not pronounce "Caution" and people would make fun of me for it.
Alicia:
Just because I'm someone with a darker color than someone else sometimes people are racist and talk bad about you. I just have to be strong and don't listen to them in order for me to go on with life.
Evelin:
Being bilingual is not something we should hide because of us not feeling good enough about it or feeling less because of what people say.
Shanni:
I wouldn't change it for the world.
Luis:
You get to experience two different kinds of people and you are able to see the differences between two distinct cultures.
Evelin:
Having such a skill like ours can bring really good opportunities in our life through jobs, careers, school, relationships, friendships and everyday use like going to the store.
Alicia
By knowing two languages, you can communicate with two different types of people. It can help you find more job opportunities because you'll can be able to translate and help people.
Luis:
You can see more memes, listen to more music, and watch more tv shows or movies.
Shanni:
Throughout my childhood and now I believe that being bilingual has changed the way I see things.
Evelin:
It's time to embrace our culture and our first language that we grew up speaking and use it as a key to open doors for the present and future.
The students will be recognized at the RHS Awards ceremony on May 16th. Mr. Abell remarked "I am extremely proud of them and their hard word. These seniors are very involved at school in athletics and clubs, and excel in the classroom. The four seniors all have plans to attend college next year, and I know they will do well."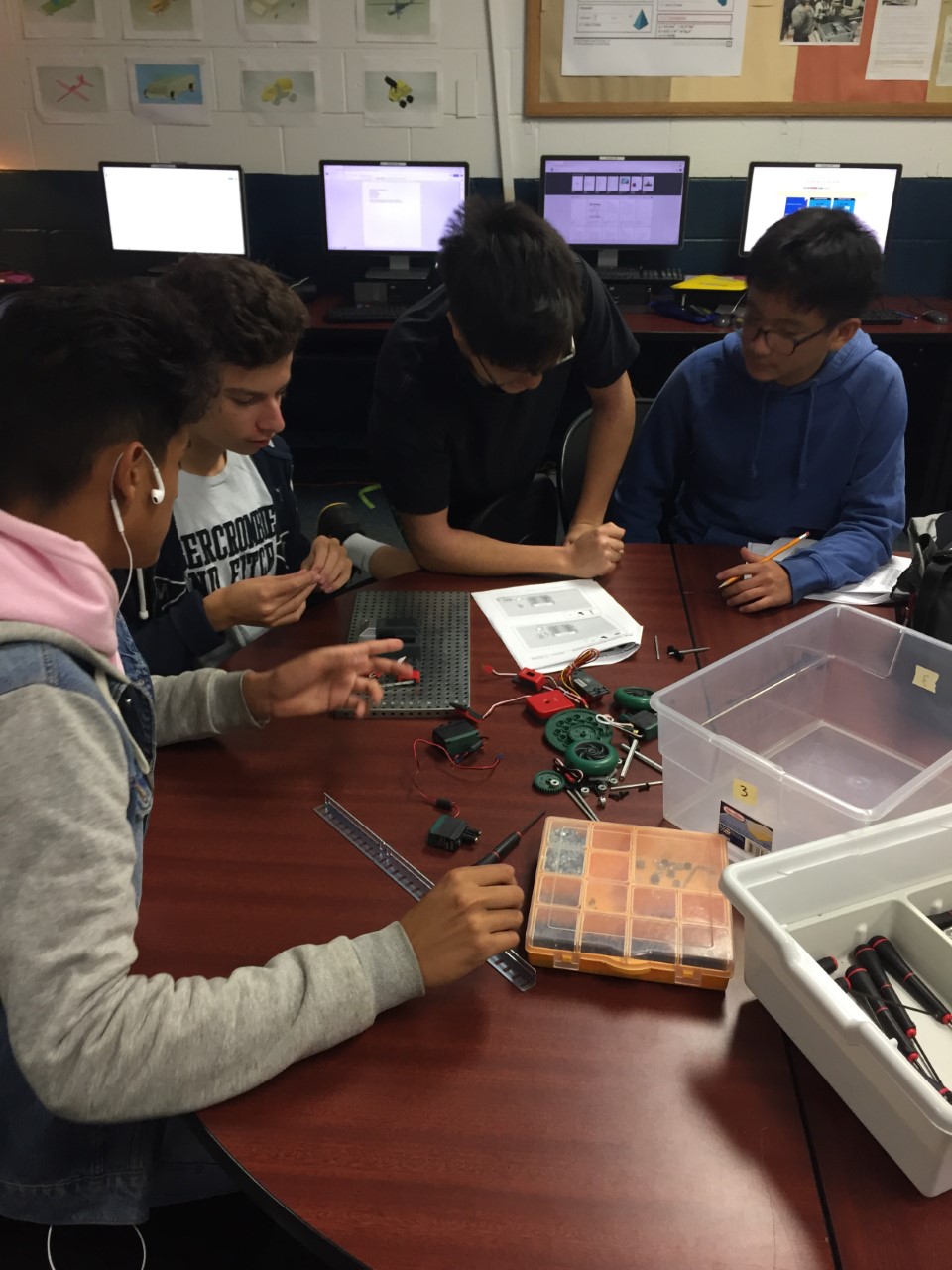 Lawson Fall Fiesta Press Release
Lawson Elementary hosted a Fiesta to celebrate Hispanic Heritage month on September 24th! Highlights included three dances from Ballet Quetzalli traditional Hispanic dance organization, four piñatas filled with candy, and a taco bar provided by PCSSD's ESOL Department. UCA's Latino Student Association also visited, to the delight of a few teacher alumni of the university! Families quizzed themselves on trivia and tasted dishes from various Hispanic cultures. Little ones made maraca and piñata crafts provided by Lawson PTO, and parents researched their own family heritage at the ancestor migration center. Additionally, families interacted from representatives from several helpful local resources, including National Latino Support Center and Friendship International. Families also enjoyed sweets from Mercado San Jose Bakery and took photos at a festive photo booth. Lastly, there was information presented about the importance of knowing two languages helps our brains and improves the quality of life. The planning committee included teachers Clifford Abell (ESOL), Laura Marshall (Gifted and Talented), and parents Alice Hoag and Jackie Knight Brewer.